This article about 'Is Nicaragua safe to travel' may contain affiliate/compensated links. For full information, please see my disclaimer here.
Table of Contents

Can I Travel To Nicaragua Right Now?
9 Safety Tips For Traveling Nicaragua: My Experience
Is Nicaragua Safe To Travel? General Safety Tips
Entry Requirements For Nicaragua
Getting Around Nicaragua – Taxis & Buses
Risk Of Natural Disasters In Nicaragua
Health Risks In Nicaragua
Crime In Nicaragua
Pickpockets & Scams In Nicaragua
Money Safety In Nicaragua
What Is The Safest Part In Nicaragua? Safest Places In Nicaragua
What Should You Avoid In Nicaragua? Less Safe Places In Nicaragua
Conclusion: Is Nicaragua Safe To Travel?
More Tips For Nicaragua Travel
Nicaragua is one of the least explored countries in Central America. Before visiting, I heard different stories and people telling me how dangerous it was and that I should've been careful. So I went to travel to Nicaragua to experience it by myself.
After spending a month in the country, I can confidently say Nicaragua is safe to travel. While you have to be more cautious and use your common sense, it's one of the safest countries in the Americas.
So if you ask yourself the question: 'Is Nicaragua safe to travel' keep reading and get the top safety tips from my first-hand experience in this article.
Best Travel Resources
Here are some of the top travel resources I use for travel adventures.
Book a flight, hotel, rental car, travel insurance, and activities, and get an eSim card to stay connected.
Get the best deals using the links below:
Get the best flight deals on SKYSCANNER
Book your hotel on BOOKING.COM
Look for Visa & necessary documents – IVISA
Get the best travel insurance deals with SAFETY WINGS
Do the best activities with GET YOUR GUIDE
Book a rental car with DISCOVER CARS
Mobile Data – use this eSIM CARD to stay connected
Can I Travel To Nicaragua Right Now?
Yes, you can travel to Nicaragua right now. And I highly recommend you do so. Nicaragua is a stunning country with friendly people, incredible nature, and interesting culture. It's one of my favorite countries I've visited. It's less crowded than the neighboring Costa Rica and very unique.
Is Nicaragua Safe For Solo Female Travelers?
Yes, Nicaragua is safe for solo female travelers. But if you decide to travel individually, you should follow these 2 simple rules: don't walk alone at night, and be aware of taxi scams (don't take a taxi at night, especially in Managua).
Taking this advice and using your common sense will keep you safe as a solo female traveler in Nicaragua. I met two women traveling solo in Nicaragua, and they told me they felt safe most of the time. So you shouldn't be afraid too much.
Is Nicaragua Safe For American Tourists?
Yes, Nicaragua is safe for American tourists. You'll especially feel safe in cities such as Granada, Leon, and San Juan del Sur. I recommend asking your hotel to call a taxi and not walking alone at night. These two things will keep you extra safe in Nicaragua.
Is Nicaragua Safe For Backpackers?
Yes, Nicaragua is safe for backpackers. I was backpacking in Nicaragua with my boyfriend for a month and felt mostly safe. We took taxis, buses, and boats, and everything went fine. My general advice is not to walk outside or take a taxi anywhere at night.
Otherwise, Nicaragua is a beautiful country, perfect for backpackers to explore.
? RELATED ARTICLE: Nicaragua Backpacking Itinerary For 7 Days – explore the highlights of Nicaragua with my travel itinerary
➡ Need TRAVEL INSURANCE? Check out my favorite travel insurance – Safety Wings. Get the best travel insurance deal today by clicking this link.
9 Safety Tips For Traveling Nicaragua: My Experience
As I mentioned above, I traveled to Nicaragua for a month with my boyfriend. Thanks to the time, I've gathered some of the best safety tips and got a whole experience in the country.
With that said, here are my top 9 safety tips for you if you want to experience this beautiful country.
1. Don't Walk Outside At Night Alone
Walking outside at night, especially as a solo female traveler, is unsafe in Nicaragua. Make sure you join a group of travelers if you want to go out.
It also depends on the place where you're at. For instance, I felt safe walking around at night in Granada and Leon. I didn't feel safe at night in Managua and Bluefields. So always plan accordingly.
PRO SAFETY TIP: Avoid walking in places such as Bluefields and Managua or hidden neighborhoods at night.
2. Don't Take A Taxi At Night
Taking a taxi at night can be dangerous in Nicaragua. I'm not saying not to take it, but you should be cautious. Tell the taxi driver even 5 times where you want to go and make sure he understands. While driving to your destination, check Google Maps to see if he is driving you where you told him.
Generally, I didn't have any issues with taxi drivers in Nicaragua. You usually also get a feeling of the person before entering the taxi, whether the driver is fair or looks a bit suspicious.
PRO SAFETY TIP: If you need to take a taxi at night, get a taxi driver recommended by local friends or tell your hotel to call a taxi for you. You can trust these and avoid any dangerous situations.
3. Avoid Taking A Night Bus
This is something to do if you want to be extra safe. If it's a night bus from bigger companies such as Tica Bus, it's fine to take it. I'm talking about the local buses in Nicaragua, especially on the route to and from Bluefields.
I took a night bus from Bluefields to Managua, and while I felt safe throughout the journey, this route is famous for drug traffic. The story goes that police stopped our bus 15 minutes after departing Bluefields and held us there for almost 2 hours. They found drugs in a local's luggage and detected her.
Only after I thought about what would happen if someone stuck drugs into my backpack without me knowing, I would've been in trouble and perhaps don't leave Nicaragua for a decade. That woman was imprisoned for 12 years.
PRO SAFETY TIP: Always watch your stuff when taking local buses, and don't take the night bus from Bluefields for extra safety.
? RELATED ARTICLE: How To Get From Managua To Bluefields – Bluefields is the gateway to the beautiful Corn Islands that belong to Nicaragua. Check out this article if you want to visit these islands on a budget.
4. Don't Walk Around With Valuables
Avoid walking around with too many valuable things. If you have a phone, that's fine, sure. But be sure to have it in your pocket or hold it tight. Always watch your belongings and keep your backpack closed all the time.
PRO SAFETY TIP: Don't wear expensive jewelry & expensive clothes – this makes you stand out, and you'll be like a magnet for thefts.
5. Don't Leave A Lot Of Cash Inside Your Hostel/Hotel Room
Luckily this didn't happen to me, but I've heard stories from other travelers that they left cash in their room, and after they came back, it was gone. Housekeeping staff took advantage of seeing the cash and just took it while cleaning their room.
So either tell the reception you don't want your room cleaned. Or my advice would be to hide the cash as well as you possibly can. If you put the cash into a rare place, nobody will find it. The housekeeping also only has a little time to look for it. So it's just a matter of hiding your cash well.
PRO SAFETY TIP: Store your cash in a bunch of clothes, in your hygiene purse, or a book and hide that book in a suitcase stuffed with clothes.
6. Don't Leave Your Stuff Unattended On The Beach
Similarly, don't leave your belongings unattended on the beach. I've also heard stories of travelers leaving a book with cash on the beach and going for a swim. After 10 minutes, when they came back, the book was there, and the cash was gone.
But come on; this is a bad idea to leave your cash in a book standing alone and walking away. Be smart; either don't take much cash with you or none at all. After all, you're going for a swim and don't need a lot of cash or many belongings with you.
PRO SAFETY TIP: Ask fellow travelers to watch your stuff if you want to leave it on the beach alone for a while.
7. Don't Believe Everything What You Hear To Avoid Scams
Locals are clever, sometimes too smart. And they're very good at scamming people. Always double-check and think twice when you get some information from locals.
I was at the bus terminal in Rivas, traveling from Ometepe to San Juan del Sur. I came to Rivas in a taxi and wanted to change to Rivas and take a bus to San Juan del Sur.
After arriving at Rivas bus terminal, I didn't even properly stand on the ground with both feet, and locals started yelling at me, offering me a taxi ride to San Juan del Sur and other locations. When I told some I wanted to go to San Juan, they said there was no bus. They claimed the last bus left 5 minutes ago, and the last possible bus only left at night around 10:00 pm (it was 4:00 pm).
I just ignored them and walked towards the buses to double-check. After walking around and asking individual buses and people waiting there whether there was a bus to San Juan del Sur, I found a bus with passengers about to leave in 3 minutes. So I took it.
PRO SAFETY TIP: Locals take advantage of you being new in the country and not knowing things. So don't listen to everyone. Always double-check first whether it's true what they're saying. Take your time to think, and only after taking action.
8. Think Twice Before You Take Action
As I've mentioned, take your time to think and re-evaluate a situation before you take action. This applies to everything you do in Nicaragua. If a taxi driver tells you a price that seems too high for you, either negotiate or walk away and find another one.
If somebody wants to exchange your dollars for Nicaraguan Cordoba (local currency) on the street, think before you do so. First, ask him how much would you get and then double-check online at XE.com if the amount is correct.
In case anyone tells you there is no bus to your destination, double-check first. Perhaps it's not true, and they tell you because they can charge you more for the ride.
PRO SAFETY TIP: People sometimes put pressure on you to make a decision right away. You don't have to. Take as much time as you need, think first, evaluate whether it's the right thing to do, and only then take action.
9. Use Common Sense
I know this sounds cliche, but it's my most important advice when traveling to any country, not just Nicaragua. Listening to yourself and your feelings and using common sense will tell you something is wrong.
We, as human beings, are naturally careful when it comes to our safety. So your body will tell you. You might naturally feel less safe in Bluefields because some people might have that scary or unsafe vibe. You'll know somebody is lying to you because they put too much unnecessary pressure on you.
PRO SAFETY TIP: So think and use your common sense. It'll keep you safe while traveling to Nicaragua.
Is Nicaragua Safe To Travel To? General Safety Tips
Now that you have my insights into safety when traveling in Nicaragua let's talk about general safety tips such as entry requirements, getting around, health risks, scams and crime in Nicaragua, and money safety.
All these tips will keep you safe while traveling in Nicaragua and help you avoid all possible troubles and scams. So keep reading.
? Entry Requirements For Nicaragua
First of all, check if you need Visa to travel to Nicaragua. You can do so by clicking this link and seeing all the necessary documents and visas you need for Nicaragua. Or click on the box below and see what you need to enter Nicaragua from your country of residence.
Furthermore, there are general entry requirements to enter Nicaragua, except for Visa:
Fill Out Online Entry Form
Covid Test/Vaccination Card (as of 2023)
Entrance fee of $14
Valid Passport
Confirmation of your hotel/hostel stay
To enter Nicaragua, you must complete this form online before traveling. It asks you for your personal information, and it's for the government to track who is entering the country and when is your approximate time you'll leave.
As of 2023, you still need a Covid test or vaccination card to enter the country. It might change in the next few months, so check this website for updated information.
You'll also have to pay $14 to enter the country (as of 2023). Everyone must pay this general entry fee when crossing the border or arriving at an international airport in Managua.
Additionally, you need a valid passport (make sure it's not going to expire in the next 6 months) and a confirmation of your hotel/hostel stay.
? RELATED ARTICLE: Check out this article if you're traveling from Costa Rica to Nicragua by bus: How To Get From Costa Rica To Nicaragua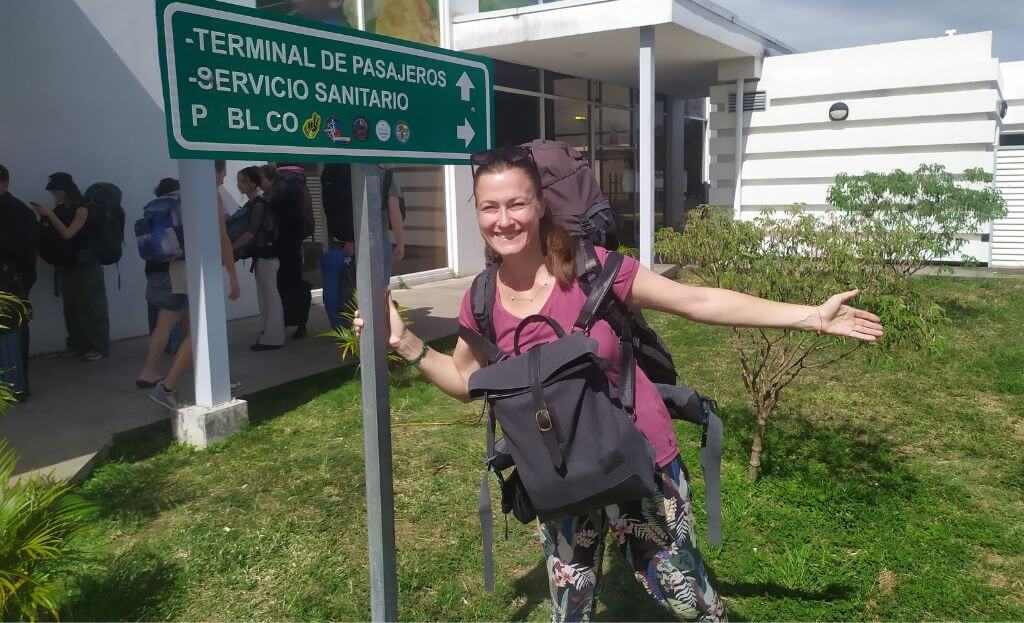 ? Getting Around Nicaragua – Taxis & Buses
MEDIUM RISK
Taking a taxi in Nicaragua is safe. Don't Uber; it can be subject to many scams. Instead, take a regular taxi. The safest is to let your hotel or hostel reception staff call a taxi for you. They work with particular taxi drivers, so you know you can rely on them, and they'll drive you safely to your destination.
If you're in a city taking a taxi on your own, tell the driver even 5 times where you want to go. Then check Google Maps while driving to see if he's going in the right direction.
PRO TIP: Make sure to negotiate the price before hopping into the taxi. Agree on the exact price you'll make and try to make it lower (negotiate). Once you agree on a specific price with the driver, get into the taxi. Only enter a taxi knowing/agreeing on the price before. Otherwise, the drivers will take advantage of it and charge you more.
Is Public Transportation Safe In Nicaragua?
Public transportation is generally safe in Nicaragua. You should know, though, that the bus drivers drive like crazy. They drive very fast, and the road isn't in the best condition, so it gets bumpy (I'm mainly talking about the bus route Managua – Bluefields). Yet, don't worry, it's safe.
If you take ferries and boats, it might look unsafe, too. These ferries and boats don't have extra safety measures; they give you a lifevest, that's it. The sea gets rough, so take a pill against sea sicknesses if you need. But generally, captains check the weather, and they often cancel the boat rides if the weather conditions are bad. So you shouldn't be worried.
PRO TIP: Be aware of drug traffic on the Carribean coastline of Nicaragua. Watch your backpack and belongings all the time when taking public transportation.
? Risk Of Natural Disasters In Nicaragua
MEDIUM
There is a number of potential natural disasters in Nicaragua. The main ones are:
Hurricanes
Volcano eruptions
Floods
The hurricane season in Nicaragua is between June and November. Some hurricanes have caused a lot of damage, while some were of minor importance. So check the weather forecast and news before traveling to avoid this natural disaster.
Nicaragua is a land of volcanoes. There are 19 altogether, and 7 volcanoes are still active. The last volcano eruption in Nicaragua was in 2012. While it shouldn't put you off visiting this beautiful country, you should be aware of it, too.
Too much rain and hurricanes can cause floods in the country. This might be an additional natural threat when traveling to Nicaragua.
?‍? Health Risks In Nicaragua
MEDIUM
As for health risks, malaria is a common disease in Nicaragua. While it's nothing to fear, you should be aware of it.
You might also face gut health issues, such as diarrhea and stomach sickness. Make sure to eat in clean spaces. Avoid drinking tap water and raw milk/dairy products.
As an experienced traveler, you know you sometimes can't avoid feeling sick on the road. So if it happens, don't panic. Stay calm and in bed for a day or two; relax your body, and it'll be fine. If not, see a doctor.
Nicaragua has great medical services, and the hospital in Managua (capital city) is amazing. Many people travel here specifically to get cheaper treatments and surgeries.
➡ Get one of the best travel insurance by clicking this link and prepare for possible health risks when visiting Nicaragua. Or use the box below to get the best travel insurance quotes today:
? Is It Safe To Drink Tap Water In Nicaragua?
Tap water in Nicaragua isn't safe to drink. Honestly, I didn't even try it and always bought water bottles. Drinking tap water in Nicaragua may cause gut problems and diarrhea, so avoid it.
?‍♂️ Crime In Nicaragua
MEDIUM – HIGH RISK
You should be aware of the high crime risk in Nicaragua. But again, please don't let it put you off visiting this stunning country. The danger is everywhere globally; the best precaution is to know about it and behave accordingly.
The most common crime cases in Nicaragua are:
drug smuggling
theft
assault
express kidnapping
Drug smuggling is widespread on the Caribbean coast of Nicaragua. Bluefields is the drug hub where all the drug traffic occurs. That's why I told you to avoid taking the night bus from there. Also, it's dangerous walking at night on the streets of Bluefields. Throughout the day, I felt safe.
Theft is also common in Nicaragua. But if you use your common sense and follow the safety tips I gave you earlier in this article, you'll be fine.
Assault and express kidnapping may also occur. Avoid walking in hidden streets without people and tourists. Stay in the common areas of any city and generally avoid walking/traveling around at night in Nicaragua.
Armed gangs are common in northern Nicaragua, the border with Honduras. So be aware of that, too. You'll be fine if you cross the border with a local travel supplier or an official bus company.
?‍♀️ Pickpockets & Scams In Nicaragua
MEDIUM – HIGH RISK
There is a high risk of pickpockets in Nicaragua, too. But again, follow the safety tips I gave you from my experience and use your common sense. You'll be fine this way. I believe pickpocketing happens when people don't care and walk around with an open backpack or leave their phone/belongings unattended.
The most common scams in Nicaragua are:
A taxi scam happened to me. A taxi driver charged us 10 times more for a ride because he claimed it was more expensive at night to drive, and he also had to wait for us to arrive on a ferry. We got this taxi driver recommended by our friends, so I didn't even negotiate the price before as I believed our friends recommended us a fair driver. But, well, things happen regardless.
PRO TIP: Always negotiate the price before entering a taxi. This way, you'll avoid any taxi scams.
Another common scam in Nicaragua is a money scam. Think of people giving you a bad exchange rate in an office, fake bank notes, or on the street or giving you a wrong change. Keep reading the section below for money scams if you want to learn more.
?? Money Safety In Nicaragua
MEDIUM RISK
Nicaragua's most common money scams are fake bank notes and wrong exchange rates.
Fake Bank Notes When Exchanging Cash
Random people are standing/sitting on the streets that will offer you local cash in exchange for your dollars. Be very careful. I saw people doing these money exchanges, and I did it once, too.
We were in a taxi driving to our hotel in Managua and needed to change money to pay the taxi driver. We trusted this guy as he drove us before, and he pulled over on the street and helped us exchange the money with the guy standing there. But I think I wouldn't do this cash exchange alone.
PRO TIP: I would avoid exchanging cash on the streets as the bank notes might be fake. If you exchange money, make sure it's an official exchange place. Also, check the rate online on XE.com before and then count whether they gave you the exact cash it was supposed to be.
ATM Withdrawals & Cash
It's safe to use ATMs in Nicaragua. I recommend withdrawals from ATMs in bigger shopping malls or safer cities such as Granada and Leon. If you plan to travel to remote areas such as the Carribean Coast and the Corn Islands, withdraw cash before.
PRO TIP: Calculate how much you need to explore the country for the number of days you'll spend there. Exchange the appropriate amount. Avoid carrying too much cash around.
What Is The Safest Part In Nicaragua? Safest Places In Nicaragua
As with all countries, Nicaragua has its safe places and not-so-safe ones. If you want to be extra safe and avoid any trouble while traveling in the country, I recommend visiting the safe places.
The safest part of Nicaragua is the western part of the country, the Pacific coastline, and cities such as Leon, Granada, Popoyo, San Juan del Sur, and Ometepe Island.
Here is a list of the safest places in Nicaragua. I visited all of them and felt super safe throughout my stay.
✅ GRANADA – Granada is a stunning, rather small colonial town, and I consider it to be the safest place in Nicaragua. It's a beautiful town with many facilities, beautiful hotels, great cafes, and many attractions, and it always feels safe. The people are super friendly and engaging, and the community helps each other.
? RELATED ARTICLE: Where To Stay In Granada Nicaragua
✅ LEON – Leon, located in the northern part of Nicaragua, is another safe place to visit. It's the second biggest city in the country (after Managua), and while it has its sketchy neighborhoods, staying in the city center is very safe.
? RELATED ARTICLE: Where To Stay In Leon Nicaragua
✅ POPOYO – Popoyo is a small village on the Pacific coast of Nicaragua. It's the main surfing hub and a great destination to relax and enjoy the quietness. It's a very remote place, slightly difficult to get to, and one of the country's safest places.
? RELATED ARTICLE: Where To Stay In Popoyo Nicaragua – one of the best surfing destinations worldwide
✅ SAN JUAN DEL SUR – San Juan is another touristy area, and most people visit it when traveling in Nicaragua. It's a main beach destination and a great place to try surfing, too.
✅ OMETEPE – Another super-safe place in Nicaragua is Ometepe Island. As with Granada, I felt the safest in Ometepe. The locals are nice and friendly, and I didn't feel danger at any corner. It's a great destination to experience adventure, go hiking, and spend time in beautiful nature.
? RELATED ARTICLES: Where To Stay In Ometepe & 11 Unique Things To Do On Ometepe Island
✅ CORN ISLANDS – Corn Islands in the Caribbean Sea are a true paradise. Little Corn Island is by far the most beautiful island I've visited (that's not a joke). Locals are super friendly, always smiling; it's another world, calm and relaxing. So if you want a proper beach vacation, visit the Corn Islands as one of the safest places in Nicaragua.
Disclaimer: I do have to mention that there is some drug traffic around these islands and Bluefields, but it didn't affect me in any way when I was there.
? RELATED ARTICLE: How To Get To Corn Island From Managua
What Should You Avoid In Nicaragua? Less Safe Places In Nicaragua
You should avoid two things in Nicaragua: walking outside (especially alone) and taking a taxi at night.
With that said, there are less safe places in Nicaragua. I wouldn't say you should specifically avoid these places. But I consider them less safe than the places I mentioned above. You have to be more careful when visiting the following places in Nicaragua.
?BLUEFIELDS – Bluefields is commonly known as the drug hub in Nicaragua. There is a lot of drug traffic not just in Bluefields but the entire Caribbean coast. With that, some danger arises naturally. I felt safe in Bluefields during the day. But it's really dangerous walking around at night. So please don't do it; even locals don't do so.
? RELATED ARTICLE: How To Get From Managua To Bluefields
?MANAGUA – The capital city of Nicaragua, Managua, is quite controversial. While getting around in the city center is safe, some parts can be dangerous. But as a traveler, you rarely end up in these hidden and dangerous areas. So if you stay within the city center and avoid walking around at night, you'll be fine.
? RELATED ARTICLE: How To Get From Costa Rica To Nicaragua (Managua)
? SAN CARLOS – I have yet to go to San Carlos myself, but I've heard from many travelers that it's less safe than other areas. It still is common to visit it while traveling in Nicaragua. It's a jungle area, so be aware of potential health risks and theft in remote areas. But again, if you use your common sense, you'll be fine.
Conclusion: Is Nicaragua Safe To Travel To?
Taking all of this advice into consideration, Nicaragua is a safe destination to travel to. While it has some crime rate and dangerous parts, if you follow these safety tips from my article, you'll be fine whether you travel the country as a backpacker or a solo woman traveler.
I've also answered some of the most frequently asked questions below to give you even more information. So check them out.
Is Nicaragua Safer Than Costa Rica?
Costa Rica is slightly safer than Nicaragua because it's a major tourist country in Central America. Generally, Costa Rica and its moto 'Pura Vida' has welcomed tourists and kept them safe. While Nicaragua is a safe country, there are things to consider that Costa Rica handles better, such as walking at night or taxi services.
Is Nicaragua Safe To Live?
Yes, Nicaragua is safe to live in. Generally, it depends on where you choose to live and the people you're surrounded by. Nicaragua's safest places to live are Leon, Granada, San Juan del Sur, and the Corn Islands.
I've met a Canadian couple who moved to and lived in Nicaragua for about 2 years. They told me they were the happiest there and always felt safe. Despite a hurricane, they stayed there and could sustain their lives.
About the author: Nicoletta is a travel enthusiast and passionate language learner. While traveling, she loves to connect with locals using her language skills to learn about new cultures. Look for her skiing, hiking in the mountains, or exploring new destinations as she designs travel itineraries for her clients.