Table of Contents

Overivew Of The Nicaragua Itinerary & Map
How to Get To Nicaragua
How To Get Around Nicaragua On This Itinerary
0. DAY: ARRIVE IN GRANADA
1. DAY: GRANADA & MASAYA VOLCANO
2. DAY: GRANADA ⇒ OMETEPE ISLAND
3. DAY: OMETEPE ISLAND
4. DAY: OMETEPE ISLAND ⇒ LEON
5. DAY: LEON
6. DAY: LEON & DAY TRIPS
7. DAY: LAS PENITAS BEACH
Practical Tips For Visiting Nicaragua
More Tips For Nicaragua Travel
Welcome to Nicaragua, the land of volcanoes, natural beauty, and great people. I fell in love with the country after 3 days of being there. It attracted me with every aspect it has to offer.
Nicaragua is one of the best countries you can visit in Central America. It has the most to see from all other countries and has a variety of activities that no other state around has. I traveled within Nicaragua for a month. Based on my experience, I've created this Nicaragua backpacking itinerary for 7 days for you. With this itinerary, you'll get the most out of this country and enjoy it fully.
✈ Travel Resources For Your Trip ✈
Here are some of my favorite travel resources I use for my travel adventures.
Overview Of The Nicaragua Itinerary 7 Days & Map
Here is a quick overview of our Nicaraguan itinerary for 7 days:
| | |
| --- | --- |
| DAY: | DESTINATION: |
| 1. | Granada & Masaya Volcano |
| 2. | Granada ⇒ Ometepe Island |
| 3. | Ometepe Island |
| 4. | Ometepe Island ⇒ Leon |
| 5. | Leon |
| 6. | Day Trip From Leon |
| 7. | Leon ⇒ Las Peñitas |
How To Get To Nicaragua
Nicaragua is located in Central America and is surrounded by Costa Rica on the south and Honduras on the north.
In case you want to fly, flights to Managua, the capital city of Nicaragua, are quite expensive. So if you don't mind the price, then it's perfect for you.
If you want to travel from Costa Rica by land, check out my article about how to get from Costa Rica to Nicaragua.
But if you're on the budget, you can fly into San Jose in Costa Rica or San Salvador in El Salvador. They usually have much cheaper flights.
If your flight is to San Salvador or San Jose, you can take a Tica Bus or Cristobal Colón bus directly to Managua.
➡ Get the best flight deals in Central America by clicking this link.
How To Get Around Nicaragua & Make This Itinerary
The best way to get around Nicaragua is by a rental car or by local bus. Taking local buses is an experience, yet sometimes a bit stressful. If you rent a car, you'll have a lot of flexibility. So choose whatever fits your travel needs the best.
Getting Around Nicaragua By Bus
You can make it as a backpacking itinerary and follow my instructions each day on how to take the local buses, the station the buses depart from, the price of the bus, and where to get tickets.
These are chicken buses, so people carry different stuff around, and the drivers usually drive super fast. But it's a lot of fun and an experience.
Getting Around Nicaragua By Car
If you want to rent a car, do so on day 1 in Managua at the airport. Rent it for 7 days, and you can either return the car in Leon or drive back to Managua and return it there.
The roads in Nicaragua are pretty well developed, and driving around is easy to navigate. This itinerary is designed to travel through the major roads so you won't have any issues.
RENT A CAR FOR YOUR ITINERARY
Rent A Car Via Discover Cars – best prices and big selection of car rentals.
PRO TIP: Check ratings of the company you choose before booking (ratings can be off). Go on Google, see ratings of the car rental company, then book on Discover Cars.
Nicaragua Backpacking Itinerary – 0. DAY: Arrive In Granada
We'll start our Nicaragua itinerary in the colonial town of Granada. It's the most beautiful town in Nicaragua, with great coffee culture, stunning architecture, and amazing places to meet new travelers. It also offers some unique day trips.
So, first, make your way to Granada before starting this itinerary.
How To Get To Granada From Managua
If you're in Managua, you can take a chicken bus or minibus to Granada. The buses leave from the station called 'Mercado Roberto Huembes'. And they depart every 10 minutes. So just go to the station and take a bus.
How To Get To Granada From San Juan del Sur/Costa Rica
If you're in the south (traveling from Costa Rica), you can get off near Masaya on the main road. Then, ask locals where the chicken bus or minibus leaves from to Granada. The minibusses to Granada usually leave from a petrol station next to the main road in Masaya.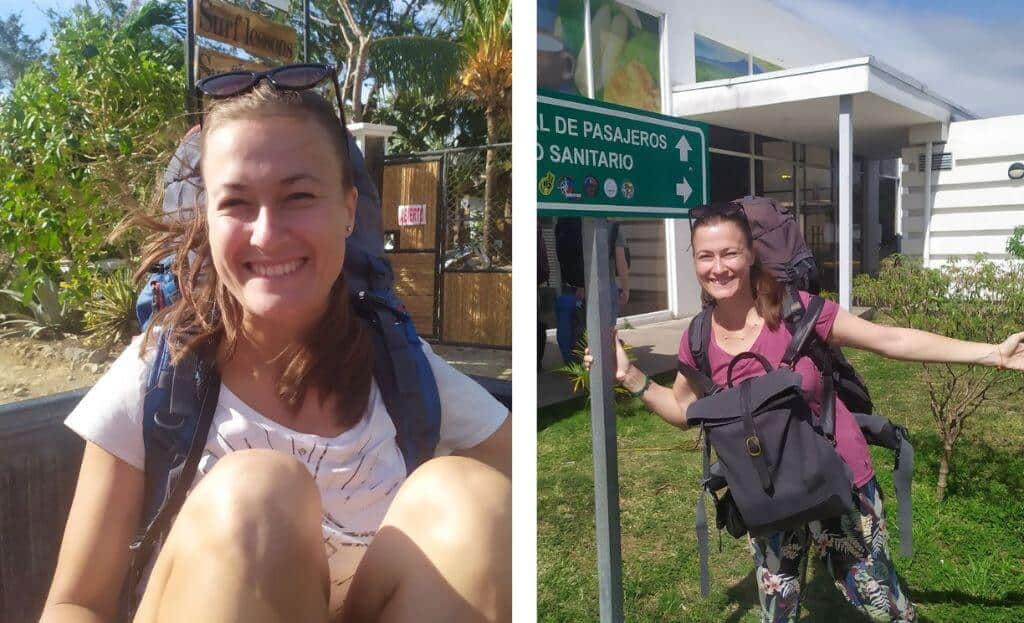 So make it to Granada today. Check in to your accommodation, and relax after the long journey. Tomorrow, our journey starts.
Where To Stay In Granada: My TOP ACCOMMODATION TIPS
These are the top 4 hotels I recommend in Granada. I spent some time in each of them and carefully picked them for you:
SELINA GRANADA
TRIBAL HOTEL
HOTEL PLAZA COLON
HOSTAL AZUL
👉 READ ALSO: Where To Stay In Granada Nicaragua
Travel Itinerary Planning Services
✈ Did you know? I design customized travel itineraries.
➡ Whether you're traveling somewhere for the first time and don't know where to start and how to plan your trip…
➡ Or you don't want to spend a thousand hours planning your perfect trip…

👉 LET ME HELP YOU – I'll design a travel itinerary based on your needs and interests (fill out the form below 👇).
Nicaragua Backpacking Itinerary – 1. DAY: Granada & Masaya Volcano
Today, we'll have a full day to explore the beautiful city of Granada. It's a small town, offering many activities and interesting spots around.
Enjoy coffee, tea, or matcha in one of its great cafes in the morning. I recommend heading to The Garden Cafe. They have delicious breakfast meals. If your hotel provides breakfast, check it out later for lunchtime or in the afternoon.
Once your stomach is full, it's time for our first excursion. We'll be visiting Las Isletas. So, walk to the shores of Lake Cocilboca (only a 10-minute walk from Central Park straightaway through the Calle La Calzada).
Las Isletas Excursion
There will be many people organizing the Las Isletas excursion. They offer it for $20, but it's way too overpriced (and they know it). So negotiate.
I did the excursion for $5. Tell them you know it only costs $5 if you share the boat. After, they'll look for someone. The boat can fit more than 10 people, so wait until the guy finds more people.
Las Isletas is a group of tiny islands in Lake Cocibolca, also known as Lake Nicaragua. Many millionaires own these islands and have built their vacation properties on them. But what these islands are best for is to watch the wildlife.
You'll hear many interesting stories from your guide, see various animal species (including monkeys) and different plants, and get stunning views of the nearby volcanoes.
I loved this tour. It feels like you're driven into paradise. So enjoy.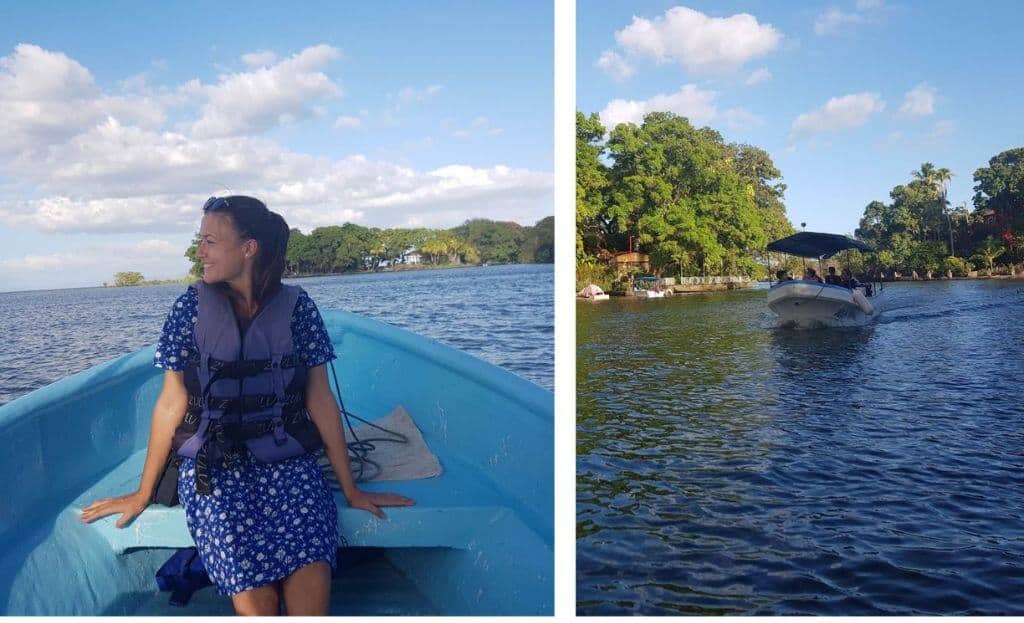 Head back to Granada around lunchtime. Eat lunch and enjoy the city for a while.
I recommend visiting the Chocolate Museum and the hammock-making center with the Cafe de las Sonrisas.
Chocolate Museum
If you're a chocolate lover like me, visit the Chocolate Museum in Granada in the afternoon. You'll learn how they produce and process cocoa beans and how they turn them into delicious chocolate. Then, try some of their products. They might be a great sweet treat after lunch.
Cafe De Las Sonrisas
Cafe de las Sonrisas was one of the most interesting places I visited in Nicaragua. I loved the energy of this place. The founder of this place comes from Spain (Granada). After his visit, he fell in love with Nicaragua. He started helping deaf people to get a job and be integrated into society.
So he created this cafe, employed people with handicaps, and now you can see their amazing work.
One section does handmade hammocks that you can admire and see how they make them.
The other section is a cafe and restaurant, where you can order delicious food from deaf people. There are sheets with sign language on each table and the wall. So you can communicate with them using the signs. It's so much fun.
Iglesia Nuestra Señora de las Mercedes
Also, check out Iglesia Nuestra Señora de las Mercedes. It's a church in the city with the best views. So go up to the highest point and enjoy stunning views of the city and Lake Cocilboca. The entrance costs 30 cordobas.
Visit Masaya Volcano
In the late afternoon, go on a tour of the Masaya Volcano.
Masaya Volcano is something you definitely can't miss when visiting Nicaragua. It's the only volcano in the country where you can see the actual lava.
Most hotels and hostels organize Masaya volcano tours. So ask at the reception and sign up.
The excursion starts around 4:00 pm, costs $20, and takes about 3 hours.
You'll see the impressive Masaya volcano with lava inside, drive through the National Park, and see beautiful views of Nicaraguan land.
Nicaragua Backpacking Itinerary – 2. DAY: Granada ⇒ Ometepe Island
Today, we'll be heading to Ometepe Island. So pack your bags in the morning and set off for an adventure. Since this is a backpacking itinerary, we'll use local chicken buses to travel around the country.
You can also make this itinerary by car to be more flexible. If you're driving by car, leave your car at the parking place next to the ferry port. Or you can even take it with you to Ometepe Island. The choice is yours.
How To Get From Granada To Ometepe
To get to Ometepe, we'll take a chicken bus from Granada to Rivas. Then, take a taxi to San Jorge and board the ferry to Ometepe Island.
In the morning, walk or take a taxi to the 'Nueva Terminal de buses a Rivas.' It's the bus station from where the buses leave for Rivas.
Take a bus from the terminal direction, Rivas. But our destination is not Rivas; it's San Jorge. Since the bus doesn't go to San Jorge, tell the driver you want to get off at the roundabout. The drivers know which roundabout you mean. Many travelers go this way, and they'll drop you off there. In Spanish, it's called 'La Rotonda'.
From the roundabout, take a taxi to San Jorge.
Ferry To Ometepe Island
The ferry to Ometepe leaves regularly throughout the day. So once the taxi leaves you in San Jorge, walk to the port and board the ferry.
Then, enjoy a 1-hour ferry ride to Moyogalpa, the main town on Ometepe Island.
👉 READ ALSO: How To Get To Ometepe Island – tips for getting there, how to negotiate with taxi drivers, and more.
Rent A Scooter In Moyogalpa
Once you reach Moyogalpa in Ometepe, you'll have several options.
I recommend renting a scooter in Moyogalpa and driving to your accommodation in the late afternoon.
You can rent a scooter at Elmer Tours Ometepe or Ometepe Verde Tours. They have great and reliable services. If you want detailed information about these rentals and prices, go to my article about things to do in Ometepe (scroll down).
Where To Stay In Ometepe: My TOP ACCOMMODATION TIPS
I visited several hotels in Ometepe. Based on my experience, I picked the best hotels and hostels on the island. Here is my list of the best places to stay in Ometepe:
TOTOCO ECO-LODGE
XALI BEACH HOTEL
EL ZOPILOTE
FINCA MYSTICA
I suggest staying at Totoco Eco-Lodge in Ometepe. It's one of the best accommodations on the island. You'll feel like being in a jungle, can enjoy the stunning views of the local volcano, and relax.
Enjoy your first evening in Ometepe and soak up its unique atmosphere.
👉 READ ALSO: Where To Stay In Ometepe Island
Nicaragua Backpacking Itinerary – 3. DAY: Ometepe Island
Good morning to Ometepe.
I hope you slept well because we have a lot to explore today. But before that, let me give you some interesting facts about this place.
Ometepe is located in the middle of Lake Cocibolca. It's the largest lake in Central America. But what is more, it's the only freshwater lake in the world where sharks live.
Ometepe Island has a volcanic origin and has two volcanoes: The Concepción and the Maderas volcano.
It offers many adventure activities and unique sights, which we'll explore today.
Suggested Itinerary For 1 Day In Ometepe
In the morning, I recommend visiting Ojo de Agua. It's a natural pool, where you can swim in the volcano water. You'll pay an entrance of $10. Half of it is the entrance; for the other $5, you'll get a voucher for food and drinks. Get fresh coconut water or a smoothie, and relax in the natural pool.
In the afternoon, I recommend driving your scooter to Moyogalpa for lunch. My favorite restaurant was Soda Los Antojitos. They have many options, and the food is delicious.
Take your afternoon to do one of the best things to do on Ometepe Island.
You can visit Centro Puma and enjoy their delicious coffee in Altagracia. Or visit the Ceibo museum and learn about the pre-historic times of the island. You can also walk the Charco Verde Natural Reserve and see the monkeys. Or practice yoga in the jungle if you stay at El Zopilote.
Sunset At Punta Jesús María
Finally, in the evening, head to Punta Jesús María. It's the best spot to watch the sunset in Ometepe. And believe me, these sunsets are spectacular. So buy some drinks and snacks (you can also do so on the spot), sit on the beach, and stare at the sunset.
Then, drive back to your accommodation and enjoy a relaxing evening.
Nicaragua Backpacking Itinerary – 4. DAY: Ometepe Island ⇒ Leon
I hope you had a great stay in Ometepe. Take your time to enjoy your breakfast in the morning. Then drive back to Moyogalpa and return your scooter.
Today will be another transfer day. We'll take the ferry back to San Jorge and then take local buses to Leon, another amazing city in Nicaragua.
So first, take a ferry from Moyogalpa back to San Jorge. Enjoy the ferry ride and stunning views of the Concepción volcano.
Once you reach San Jorge, I recommend taxiing to Rivas bus terminal. Of course, you can also wait for the bus at the roundabout, where it dropped you off last time. But I think it's easier to get on at the Terminal in Rivas.
PRO TIP: The bus Terminal in Rivas is crazy. Immediately after you open the taxi door, locals will come to you and offer you taxi rides to other parts. They'll even tell you sometimes wrong information, that there are no buses to your destination anymore. Ignore them, first look around, and don't listen to anyone. Ask locals at the station from where the bus to Managua leaves.
How To Get To Leon From Rivas
First, take a bus from Rivas to Managua. It takes 2 hours. The bus will go to 'Terminal Roberto Huembes' in Managua. You'll then have to take another bus from Managua to Leon.
Buses from Managua to Leon leave from 2 bus terminals. One is Mercado Israel Lewites Terminal, where the chicken buses to Leon go. It's quite chaotic, as it's a huge Mercado in the city, but locals will help you to find where the buses leave.
Or you can also take a minibus from 'Parada de la UCA.' These mini buses frequently leave for Leon, too.
The bus ride from Managua to Leon takes 2 hours. If you take the chicken bus, get off in Leon. They usually only stop on the main road in Leon and continue driving further north to Chinandega.
So make sure the driver tells you once you're in Leon. Or ask locals on the bus to make you aware that you have to take off. Because if the bus drivers change in the middle of the route, you'll go up to Chinandega.
Watch The Sunset In Leon
In the afternoon, check in to your accommodation in Leon.
Have a first walk around the city and get some good food.
In the evening, go to the Cathedral's terrace and enjoy a beautiful sunset from its roof. The Cathedral in Leon is stunning, and I am sure you'll love the views.
Where To Stay In Leon: My TOP ACCOMMODATION TIPS
I took my time in Leon to research the best accommodations. So here you have a list of the best 4 hotels/hostels that you can book in Leon:
HOTEL FLOR DE SARTA
HOTEL EL CONVENTO
VIA VIA HOSTEL
HOSTAL EL RIO
👉 READ ALSO: Where To Stay In Leon Nicaragua
Nicaragua Backpacking Itinerary – 5. DAY: Leon
I hope you slept well in Leon. Because TODAY IT'S GONNA BE A VOLCANO DAY, baby, yeah.
I have goosebumps when writing about volcano boarding. It was undoubtedly one of the most unique and exciting activities I've done in my entire life. And I can't wait until you experience it, too.
Today will be the day for volcano boarding, so get excited and prepare.
➡ Book your volcano boarding experience here.
Go Volcano Boarding
After breakfast, head to the spot where it all starts. The organizers will drive you to the Volcano Cerro Negro. Take all of the gear they give you, and start the hike.
It only takes between 45 minutes and 1 hour to hike the volcano. However, it's quite hot, and you'll have to carry your board, making it more challenging. But don't worry. You can make it even if you don't feel 100% fit. If it's too hard, one guy can carry the board for you for $4.
And then the fun part starts. So get ready, put on everything you need, and let's go down the volcano.
It's not even as fast and scary as it looks when standing on the volcano's top. So make sure you enjoy every single moment of it. It's easy to slow down with your legs. And the board accumulates so much ash from the volcano that it slows you down, too.
After, you'll come back to Leon. You'll still have the entire afternoon to explore Leon.
Visit The Museum Of Revolution
I recommend visiting the Museum of Revolution. There are a few older men who will do a tour for 1 hour and explain to you a little bit about the history of Nicaragua and what was happening during the revolution. These men are very passionate; most participated in the local war and revolution. So they'll tell you true stories of how it all was. It's super fun listening to them.
If you speak Spanish, do it in Spanish as it has more energy, and you can get more information from these guys.
In the evening, get some good food in Leon, walk around, and rest well.
Nicaragua Backpacking Itinerary – 6. DAY: Leon & Day Trips
Leon is a small city, and one day to explore it is enough. But it offers so many beautiful places to visit on a day trip. So today, you'll visit one place as a day trip from Leon.
You have 2 options: visiting a local rum factory or a coffee farm.
1. Visit A Rum Factory: Flor de Caña
The rum factory is only open on weekends, Saturdays, and Sundays. So plan accordingly. Nicaraguan rum is called Flor de Caña; it's a precious product of the country that everyone is proud of. And this is the place where they produce it. So they'll take you on tour, and you'll get some samples.
If you want to visit the rum factory, you must go to Chichigalpa. Chichigalpa is a small town located 30km north of Leon.
So, in the morning, take a chicken bus from Leon to Chichigalpa. In Leon, go to the main road, where it says 'Ticabus stop' in Google maps. That's the spot where the bus can pick you up.
The bus will be going to the city called Chinandega. Tell the driver to make you aware once you're close to Chichigalpa.
The bus will drop you off on the main road near Chichigalpa. So just walk to the rum factory. It's only about 10 minutes to walk.
Alternatively, you can also rent a car just for today to make it easier for you.
NOTE: You'll have to sign up for the rum factory tour. Simply fill out this form on their website, and that's how you register. They'll get back to you via email.
2. Visit A Coffee Farm
Nicaraguan coffee is delicious. I am a coffee lover, and Nicaragua has some of the best coffee in the world. Some travelers who have already been to all countries of Central and South America say that Nicaraguan coffee is the best.
So it would be a shame not to visit one coffee farm and experience how it's produced.
The coffee farm is located slightly further, in the city called Matagalpa. You'll have to take a bus or a car to get there. There should be an express bus from around 7:30 a.m. from Leon. So I'd take this one.
Once you're in Matagalpa, the organizers will pick you up and take you on a tour of a local coffee farm for 5 – 6 hours.
NOTE: You can also register online by filling out this form on their website. They'll write you an email with all the instructions.
Alternative Day Trips From Leon
You can also make other day trips in nature, such as visiting Somoto Canyon or hiking and staying overnight on one of the volcanoes near Leon. Ask your hotel or hostels, and they can organize further excursions for you.
Nicaragua Backpacking Itinerary – 7. DAY: Las Peñitas
On the last day of our Nicaragua backpacking itinerary, you'll relax on a beach, soak up the atmosphere, and reflect on the places you've seen. Take it easy today. You're going to the Pacific coast.
Around lunchtime, travel from Leon to Las Peñitas village. It has one of the most beautiful beaches on the Pacific coast of Nicaragua. 
Some minibusses leave for Las Peñitas frequently. When they get full, they depart from Leon. So ask your hotel for directions to the bus stop. They should leave from the bus stop behind the main cathedral.
The best of all is the sunset. I loved the long beach walks, staring at the waves and the sunset. Have a nice dinner, and reflect on your journey.
This is where our Nicaragua itinerary ends. However, you can also book more nights here to stay on the beach.
In the evening, return to Leon and stay one more night before heading back to Managua. Or head back to Managua to return your car on this last day. It's up to you.
Practical Tips For Visiting Nicaragua
I want to ensure you're well-prepared for your trip and know what to expect. So, I've got some more tips for your visit to Nicaragua below.
What Is The Best Time To Visit Nicaragua?
The best time to visit Nicaragua is between December and April. This is the dry season in the country. Temperatures range between 25°C to 32°C. It doesn't often rain, except if you're in Bluefields.
December, January, and February are great months to visit. If you want to enjoy more fruits such as avocado and mango, visit in March and April. Trees produce fruits during these 2 months.
From May until November, Nicaragua has the rainy season. Even though you can still visit, it's not very nice if it's raining heavily and often. However, this is the best time for surfers to visit. The waves are bigger during the rainy season, and conditions are better for surfing.
One of the best destinations in Nicaragua for surfing is Popoyo.
How Many Days Do I Need In Nicaragua?
It depends on what you want to see. But the minimum number of days to explore Nicaragua are 7 days. So if you want to see everything the country offers, I recommend staying 10 – 14 days.
If you want to visit the Corn Islands, make extra time. Especially if you don't fly, it'll take a long to get there. So stay at least 1 week on the Corn Islands if you want to get the most out of it.
Is Nicaragua Expensive To Visit?
No, Nicaragua is NOT expensive at all. It's one of the cheapest countries to visit in Central and South America. I always say that it's a much better alternative to neighboring Costa Rica.
In Nicaragua, you can travel by bus through the country for pennies. For example, a 2-hour bus ride costs you only around $1.50.
Depending on where you eat, food can also be pretty cheap. There are many fancy restaurants and cafes, especially in Leon and Granada. The prices in these places are a bit high. But there are always cheaper and local alternatives. For example, you can eat a huge portion of Chinese rice $4. And it's huge; I had it for dinner, too.
So Nicaragua is the perfect destination if you have a low budget and want to experience many different things, such as volcanoes, islands, markets, volcano boarding, surfing, and beaches.
How Much Should You Budget For Nicaragua Itinerary?
If you want to spend 10 days backpacking in Nicaragua, I will budget between $500 and $600 for the entire trip, including accommodation, transportation, activities, and food. If you decide to do every single activity that is offered, then this would be the budget.
Spending 4 – 5 days in Nicaragua, you can count on $200 – $300. Overall, Nicaragua is very cheap. The most expensive will be all the activities and day trips.
So if you don't want to do many activities and just see the places, you can also travel for 10 days for $300. Assuming you would eat at the cheapest places and only do some activities.
Where Can You Backpack In Nicaragua?
You can backpack pretty much everywhere in Nicaragua. If you're careful, nothing can happen. But the general rule of thumb is NOT to walk outside at night. It's not safe.
The most popular route for backpackers is in the western part of the country. And places you have on this itinerary. It's Leon, Granada, Masaya, San Juan del Sur, Ometepe, and Corn Islands. Some people also go to the jungle in El Castillo near San Carlos. It's called the Reserva Biologica Indio Maiz.
Is Nicaragua Safe For Backpackers?
Yes, Nicaragua is safe for backpackers. You don't have to be worried. The people are lovely and friendly. Some of them try to take money from you because they tell you there is no bus to your destination anymore and want to charge you more for a taxi ride. But you'll also meet those who tell you the truth and tell you what to do.
We backpacked in Nicaragua with my boyfriend for a month, and it felt the same to me all day. We even took a night bus from Bluefields to Managua. Bluefields has a lot of drug traffic, so it's considered one of the most dangerous places in the country. Yet it felt safe.
👉 READ ALSO: Is Nicaragua Safe To Travel? Safety Tips For First-Timers
FAQs: Nicaragua Itinerary 7 Days
I've also answered some of the most frequently asked questions to help you plan your visit to Nicaragua. Check them out below:
Is It Worth It To Go To Nicaragua?
Yes, Nicaragua is 100% worth visiting. It's one of the most beautiful countries (if not the most beautiful) in Central America. It offers so much and has a lot of diversity. You'll love the country, I'm sure.
Is Nicaragua Good For A holiday?
Yes, Nicaragua is great for holidays. Because it offers many different things, every traveler will find an activity to meet their interests. Whether you want to enjoy some adventure, relax on a beach, go surfing, or experience something new, Nicaragua has it all.
Are People Friendly In Nicaragua?
Yes, Nicaraguan people are some of the friendliest I've ever met. They're always ready to help you and make you feel welcome in the country. They're also super happy to see that you, as a tourist, came to explore their country.
If you speak a little Spanish, you'll have an even better experience. Some people might try to scam you, but it happens everywhere. If you use your common sense and think carefully, you'll have a great time with the locals.
WRAP-UP: Nicaragua Itinerary 7 Days
This is my Nicaragua backpacking itinerary for 7 days. It will show you the country's highlights, make you do the best activities, and see the most beautiful places.
Get the most out of your time in Nicaragua. It's truly one of the most beautiful countries I've ever visited. And it's not as dangerous as many people think.
If you have any questions, contact me at info@voicesoftravel.com. I'll gladly help you or design a customized travel itinerary for you.
Happy Travels!
More Tips For Nicaragua Travel
About the author: Nicoletta is a travel enthusiast and passionate language learner. While traveling, she loves to connect with locals using her language skills to learn about new cultures. Look for her skiing, hiking in the mountains, or exploring new destinations as she designs travel itineraries for her clients.